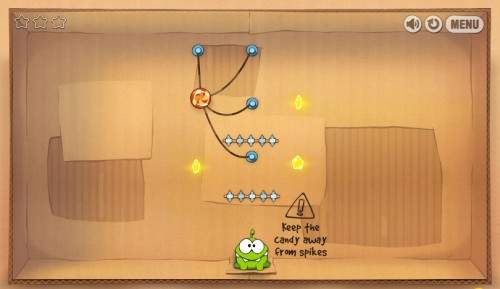 Halo sobat pembaca, saya mau bagi-bagi info nih. Ada game gratis yang bisa dimainkan secara online, seru lho, namanya Cut the Rope. Game populer versi online ini dibuat oleh Zeptolabs dimana Anda dapat memainkannya di browser saat ini juga. Sebenarnya game ini merupakan game berbayar pada smartphone iPhone, iPad dan Android seharga $0.99.
Tapi Anda bisa memainkan game ini dengan banyak level secara gratis dan online. Walaupun situs game tersebut menyarankan menggunakan browser Internet Explorer, tidak masalah pakai browser Mozilla Firefox ataupun Google Chrome, sayangnya untuk memainkan box ketiga diminta untuk men-download Internet Explorer 9 bagi yang belum punya. Jika sudah punya, bisa langsung memainkannya di browser Internet Explorer 9.
Bermain Game Cut the Rope Secara Online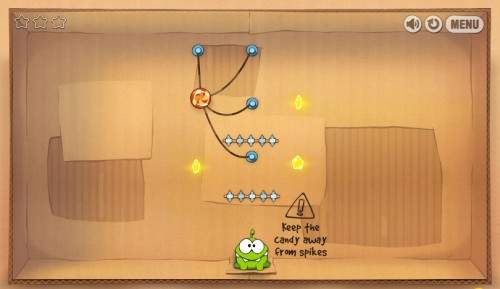 Game ini bisa dimainkan di situs cuttherope.ie. Game ini dibuat menggunakan HTML5 (CMIIW) dan memberikan level game sampai 25 di browser Internet Explorer 9 secara gratis.
Game ini mirip dengan game Angry Birds yang bisa dimainkan secara online dan merupakan cara baru mempromosikan game tersebut agar bisa dimainkan secara gratis di browser sehingga bisa meningkatkan jumlah pengguna, yang pada kenyataannya sebenarnya aplikasi berbayar. Membuat orang kecanduan karena bisa dimainkan secara gratis lalu adanya keterbatasan pada game tersebut, kemungkinan pecandu itu aka membeli aplikasi game tersebut agar bisa dimainkan dimanapun dan kapanpun di smartphone ataupun tablet.
Video trailer game Cut the Rope
Sudah mencobanya?