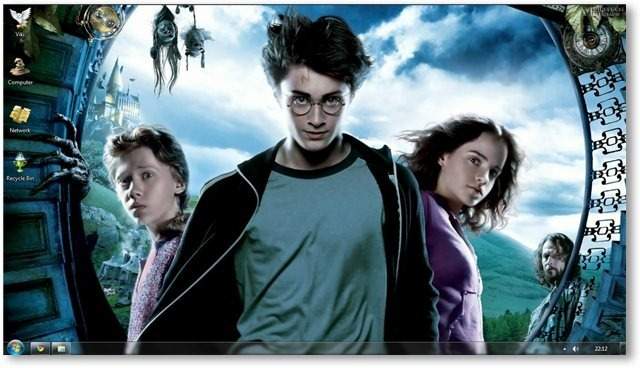 Siapapun pastinya tahu tentang Harry Potter, baik itu buku maupun filmnya. Suasana sihir yang dibawakan  oleh JK Rowling dengan imajinasi yang dinamis dan jalan ceritanya yang sensasional sudah membuat kita keasyikan selama satu dekade. Film Harry Potter sekarang sudah sampai yang terakhir, yaitu Harry Potter and the Deathly Hallows Part 2 pertama kali ditayangkan di UK, London sebagai tayangan premiernya pada tanggal 7 Juli 2011. Tidak akan ada lagi series film Harry Potter lagi. Sedih ga? 🙁
Tema Harry Potter ini wallpapernya mengikuti alur cerita dari film Harry Potter. Setiap tahun di Hogwarts, Harry, Ron dan Hermione menghadapi petualangan baru dan bahaya yang lebih besar. Wallpaper dari tema ini dipilih sendiri dari enam film pertama dalam seri – The Philosopher's Stone, The Chamber of Secrets, The Prisoner of Azkaban, The Goblet of Fire, The Order of The Phoenix  dan The Half-Blood Prince.
Tema Harry Potter ini terdiri dari 50 buah wallpaper dengan resolusi tinggi, ada gambar ikonnya juga dan suara agar terasa lebih lengkap suasananya dari dunia sihir Harry Potter di desktop Anda. Ingatlah kembali petualangan perjalanan Harry Potter dengan tema ini!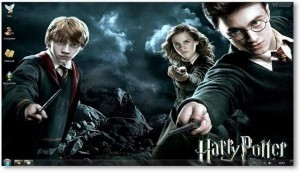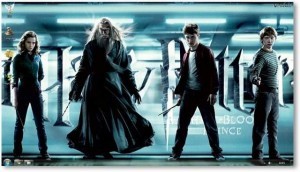 Ini tampilan ikonnya :

 DOWNLOAD TEMA HARRY POTTER (23MB)